[rev_slider alias="Links"]
La Gazette
Article de la Gazette sur La Clinique Capillaire

Article sur les rallonges Fusion Froide de La Clinique Capillaire de Montréal
My your hair grows fast!
Hair Extensions are showing up on the heads of all kinds of women
New technology means the added locks of hair look more natural than ever and last longer than before.
Donna Nebenzahl, The Gazette
For more than a decade, women of African descent have been adding extensions to their hair realizing the bonus when thick strands of hair are added to their own instant volume and length.
Originally hair extensions catered to a black clientele. Now "White people started getting into it for the last five years," perhaps because stars like Jennifer Aniston and Madonna made no secret of the additions to their hair.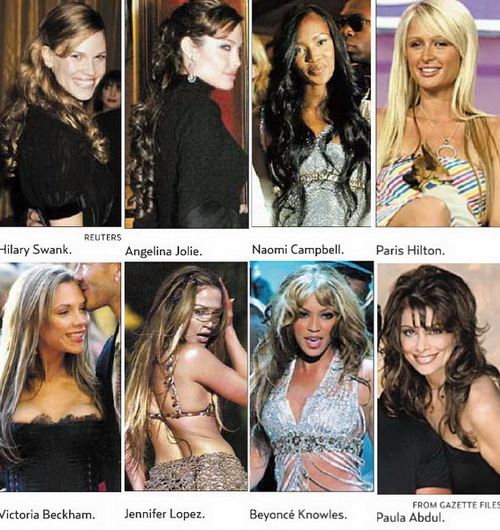 While Wigs are still worn, most often by film or TV personalities and women who have lost their hair the hair, the hair extension market is now increasing, stylists agree, because baby boomers, whose hair may be thinning, want the younger look achieved by adding volume.
They come for a bunch of reasons. Ten per cent of the market use hair extensions for lengthening and 40 per cent for volume, says hair specialist Cam Toutounghi. The rest like having a few highlights here and there. "especially if you don't want to colour and damage your hair."
For her spring wedding in 2003. Giselle Salloum chose to add volume and length that would last for a couple of days. "In my mind a wedding is a traditional thing," Sallourn says, "and I felt that long hair was a part of that."
Giselle Salloum had her real hair put into a pony tail and extensions added on, the same chestnut colour as her own hair, with a little curl at the ends. Her sister and sister-in-Law also like to wear extensions for special occasions, attached, like Salloum's, with clips so they can easily be removed.
At the Hair Clinic on Crescent St. where Toutounghi works, a group of stylists and salon owners from Quebec and Ontario gathered recently to find out more about extensions. They turned up from Montreal, Toronto and St. Jerome to learn how to offer their growing number of clients the latest method of applying extensions, which come in both synthetic and human hair.
A more permanent head of added hair can last up to six months, at a cost of $200 for yolumizing and up to $1,200 for lengthening. But the methods are more complex, and Toutounghi who uses only human hair at the clinic has become an expert in the new method, known as cold fusion.
The earlier hot-Fusion method requires a special heated tool known as a hot fusion connector to melt the bond into the hair for it to adhere securely; Because of that tool, it became impossible to add the extension too near the scalp. With cold fusion, however, the bond is attached with a polymer that isn't affected by heat.
"It's really the revolution," says Toutounghi, a small, well-muscled man wearing the fashionista's basic black. "It's possible to have it look like the hair is growing right from the scalp"
Not worlying about burning the scalp also means the strands can be added in the front of the head and along the centre part.
One of Toutounghi's faithful customers, since she started using extensions, is morning radio traffic reporter and TV entertainment reporter Orla Johannes.
"My days start at 4:30 a.m.," says Johannes, 31, who has a distinct British accent. She does her radio gig in the morning and is often in the studio in the afternoon for her co-hosting job on CFCF's Entertainment Spotlight.
"I sleep with my hair swept up and just brush it out in the morning. It feels and looks identical to my own hair."
Putting blond highlighted extensions in Johannes's hair, Toutounghi uses a tool like a crochet hook inside the extension, pulls the hair from her scalp into the extension, then applies the polymer to affect the adhesion.
Another strand of her own hair is laid overtop and the extension blends easily into her hair.
For Johannes, the procedure can take up to five hours, giving her a mane of blond hair that's about 20 inches long, reaching more than halfway down her back. It will cost about $1,200 and she'll be able to keep the cold fusion extensions in for about six months, washing and styling her hair as she normally would.
This is another bonus of cold fusion, Toutounghi says, since the hot fusion extensions, placed farther from the scalp, would usually last about three to six months. Then there's the possibility that hot air from a hair dryer could melt that bond, not likely with cold fusion, which can only he removed with a de-polymerizing lotion.
Those who don't want the hassle of hot instruments or worry about the effect of polymers and depolymers, can enter the world of clip-on hair extensions which range in price from $250 to about $550.
At the Hair Clinic, Toutounghi offers the clipons in pieces or in sets of five for volume and seven or more for length. A how-to video is included for home use.
"They make instant highlights, " Toutounghi says, even if your idea of highlighting is to add blue, red, purple or green They're reusable, too, a perfect hair touch-up for a day or two, with a change of outfit. "It's hair makeup." he says "The paint brush is now yours."
At The Hair Clinic Montreal, we go to great lengths to make your hair dreams come true!

Hot hair is so cool, but so's a $50 Discount Coupon on a full Installation of Fusion Extensions at The Hair Extension Center of The Hair Clinic on Crescent Street.
Call 514.848.6185 for your free, absolutely no obligation, laid back hair consultation, & see for yourself what hair perfection looks like!